About
Since the beginning of Ken's Truck Repair, trucks and trailers have been our business and our passion, and we put our decades of experience to work for you.
Mechanic and Founder, Ken Rohr, purchased a blacksmith and welding shop in 1963 that became the first location of Ken's Truck Repair. Due to the small size of the building, Ken worked on cars and trucks in the alley and outside of the building, even during freezing Illinois winters.
As the demand for the business' services quickly exceeded the space the first location provided, Ken's Truck Repair continued to grow. In 1985, a new three bay shop was built on the corner of the alley and Chebanse Ave. In 1990, Ken's made a large and permanent move to property near I-57, where the business is located today. About a decade later, an additional three bays were added, including a wash bay, a staging bay and a frame bay, which included a state of the art Beeline Frame Machine. The machine remains one of only two available in the state of Illinois.
With the available space the new location provided – six acres and a building with over 20,000 square feet, Ken's Truck Repair began specializing in trailer sales. The size of the physical space of the business isn't the only growth we've experienced, as three generations of Rohrs are now part of the Ken's Truck Repair family.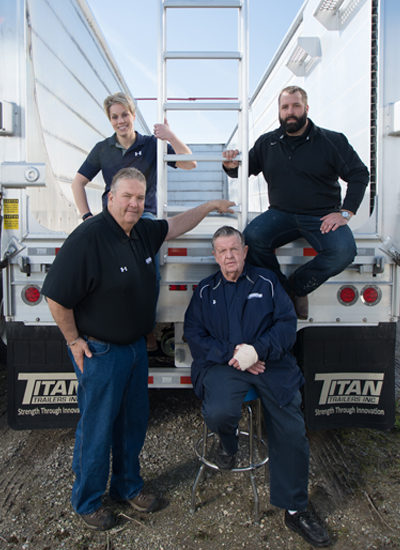 Ken Rohr
President
The Founder and President of Ken's Truck Repair, Inc., Ken Rohr plays a very active role in the operation of the business. Ken splits his time between Illinois and Florida, where he continues to work with customers and advise on the financial operation of the company.
Jim Rohr
Vice President, General Manager and Director of Waste & Refuse Sales
Jim Rohr has been working alongside his father Ken in the business from day one and has been instrumental in its growth. Jim plays many roles in the company and manages the Titan Trailer line of products.
He is known throughout the country for his knowledge and ability to get specifications right the first time for customers of any hauling need. Jim provides assistance to the repair facility using his knowledge and years of experience repairing and rebuilding trailers for five decades. Jim oversees the general operation of all three divisions of Ken's Truck Repair, Inc., which include sales, service and parts.
Nic Rohr
Inside Sales Manager and Director of Dump & Flatbed Sales
Nic started working for Ken's Truck Repair, Inc. in 1988. A small boy at the time, Nic fetched tools for his dad and grandfather, Jim and Ken Rohr, and swept the repair shop floor. Nic began working full-time at the company in 1999 and has had many roles throughout the company over the years.
Nic now assists with the daily operation of the company and oversees the repair department as well as guides and assists our sales team on all of the trailers that Ken's Truck Repair sells.
Bonnie Lewis (Rohr)
Comptroller, General Office Manager, H.R.
Bonnie Lewis (Rohr) began working full-time for the company in 2008. After graduating college in 2004 and spending four years working in sporting goods sales, Bonnie followed her heart and came to work for the family business.
She immediately played an important role as she became the sales coordinator -- handling all the paperwork for trailer sales. In 2010, Bonnie took over for her mother, Sandy Rohr, managing the office staff as well as handling the insurance and human resource aspects of the business. Bonnie now also handles the financial side of the company.
Doug Seibring
Parts Manager
Doug began working for Ken's Truck Repair, Inc. in 1984. His more than thirty years of experience makes him one of the most knowledgeable experts in the trailer parts industry. He not only handles specialty parts inventory, but also oversees the supply of parts necessary to operate our repair facility. Doug prides himself on being able to find the answers our customers need when looking for trailer replacement and repair parts.
Ryan Seibring
Shop Manager and Inside Trailer Sales
Ryan joined our team in 2014 and has quickly made himself a valuable part of the Ken's Truck Repair team.  Ryan manages the day-to-day coordination between our service and parts departments.  His growing knowledge and experience in trailer repairs has more recently presented an opportunity in our trailer sales department as well. Because Ryan has crawled inside or under most of the trailers on our lot to find answers to parts or repair questions, he has the ability to help any customer looking for new or used equipment find a trailer that would suit their needs.  Ryan's hard work and go-getter attitude makes him the right man to help any customer whether you're looking for help with parts, service, or simply looking for a new or used trailer.
Ron joined the Ken's Truck Repair family in 2006 and has a vast array of knowledge on the many types of repairs our facility handles. Whether it's a basic tarp installation, brake job, or a complete trailer reconditioning job (rebuild), Ron's manufacturing skills are second to none.
Tim Thompson
Eastern States Sales Representative
Based in Berlin, PA, Tim Thompson joined Ken's Truck Repair, Inc. in 2005 as our first out of state salesman. Tim is an expert in the products we offer and has been involved in the trailer industry for over thirty years. Tim has been very vital to Ken's in the growth of the Titan Trailer line we carry. Tim is known for his knowledge of trailer specifications and trailer applications that help customers get their trailers in proper condition for the job the first time. Tim has extensive knowledge in both the Waste and Wood Products industries, making him the man to call when it's time to talk trailers.