2022 MAC 53′ ROAD WARRIOR FLATBED TRAILER 2 UNITS
$39,682
2 UNITS
New
| | |
| --- | --- |
| Type | Flatbed |
| Year | 2022 |
| Manufacturer | MAC |
| Stock # | M062711 |
| Vin # | 5MAPA5320NA062711 |
| Suspension | HENDRICKSON INTRAAX |
| Length | 53 ft |
| | |
| --- | --- |
| Width | 102" |
| Height | |
| Tires | COOPER/ROADMASTER |
| Wheels | 22.5 X 8.25 |
| # of Axles | 2 |
| Tarp | NO |
| Liner | |
Description
Frame Rail Model:  26″ (52K)
Model:  Tandem
Axles:   (2) for Intraax only  Spacing – 122
Suspension:   Hendrickson Intraax AANT-23K TP (250 BAGS) W/HXL-5
Brakes:  7″ XL, W/ 30-30 Chambers
Tires:  Cooper/Roadmaster RM272   11R22.5   16 ply
Wheels:  Aluminum HP 22.5 X 8.25 – All Polished XP
Hub&Drum:  Cast w/ Steel Hub HP 10 Stud TP, LS, 7″
Landing Gear:  Jost A400 – (55,000 lbs)  Cushion Foot    Steel   D.S.
Air Tank:   Aluminum
ABS – (1) 2S1M Meritor / Wabco   Slacks – Automatic   Cam Guards – Hendrickson Intraax
5th Wheel:  Plate – Black 5/16″ GR-50   3/8 KP   102 Wide   48″ High
Weight:  8,834 lbs.
Financing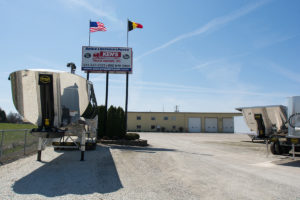 Finding the right repair shop or part to fit your needs is just part of the process of getting your truck on the road. Ken's Truck Repair goes above and beyond to provide you and your company the best possible customer service; helping you find what you're looking for and assisting you in finding available financing options.
Not every bank understands your business. At Ken's Truck Repair, we do, and we've formed strong relationships with trustworthy banks and creditors who understand your unique needs, and are willing to work with you. Our partners have industry-specific financing options available to assist with the purchasing of new or used equipment.